Nouvelle Cour suprême : le bijou du pouvoir judiciaire
Un véritable joyau. C'est en ces termes que la nouvelle Cour suprême est décrite. L'architecture de ce bâtiment suscite l'admiration de tout un chacun. L'allure de l'angle des rues Edith Cavell et Desroches a changé depuis que les travaux de construction de la nouvelle Cour suprême ont débuté en décembre 2017. Le bijou du pouvoir judiciaire, tant attendu, va être prêt en décembre 2019.
C'est le 6 décembre 2017 que le Premier ministre, Pravind Jugnauth, avait procédé à la pose de la première pierre pour ce projet en présence du haut-commissaire indien à Maurice, Shri Abhay Thakur et le chef juge d'alors, Kheshoe Parsad Matadeen. Le coût du projet, de 30 millions de dollars américains, est entièrement financé par la Grande Péninsule. Incursion dans ce nouveau bâtiment.
La Cour suprême actuelle, anciennement connue sous le nom du Conseil Supérieur, qui s'élevait au rang de notre héritage national, cédera sa place à ce nouveau bâtiment en décembre 2019 suite à la hausse des cas dans le judiciaire à Maurice. Ce bâtiment était devenu trop vieux pour convenir aux besoins de notre système judiciaire avec l'ère de la technologie et la modernité.
Ce projet de construction, confié à la National Buildings Construction Corporation (NBCC), est érigé sur une surface de 25 000 m2. C'est l'ingénieur de Landscope Mauritius qui supervise ce projet pour le compte du judiciaire.
« Des équipements dernier cri »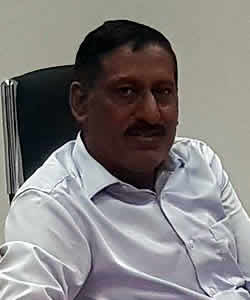 La perfection est de mise. Ainsi, les représentants des différentes parties prenantes de ce projet, notamment du NBCC, de Landscope Mauritius et de la Cour suprême, entre autres, se rencontrent une fois par semaine pour prendre connaissance des mises à jour ou de résoudre des difficultés qui surgissent au cours de la construction.
La nouvelle Cour suprême, s'élève sur 13 étages. Elle comprendra 24 salles d'audience et deux sous-sols et sera dotée de tous les équipements modernes.
Le bâtiment est si spacieux  qu'elle comprendra  trois cours d'Assises, quatre Cours Commerciales, une Cour pour les affaires familiales, la Cour Médiation et la Master's Court, entre autres. De plus, le nombre des juges sera revu à la hausse.
En outre, des bureaux pour  les secrétaires des juges, les huissiers, les « courts officers » et les archives y sont inclus. Par ailleurs, le bâtiment abritera un guichet pour des paiements de frais de justice. Il y aura une aire de stationnement souterrain pouvant contenir une cinquantaine de véhicules pour le personnel. Des cellules pour les présumés accusés à leur comparution en cour sont aussi prises en compte. Le tout avec des équipements dernier cri.
De l'ascenseur en passant par des climatiseurs jusqu'au fil électrique, tout y est. Les matériaux pour construire ce bâtiment ont été importés de la Grande Péninsule. Rien n'a été laissé au hasard. Tout est suivi avec minutie.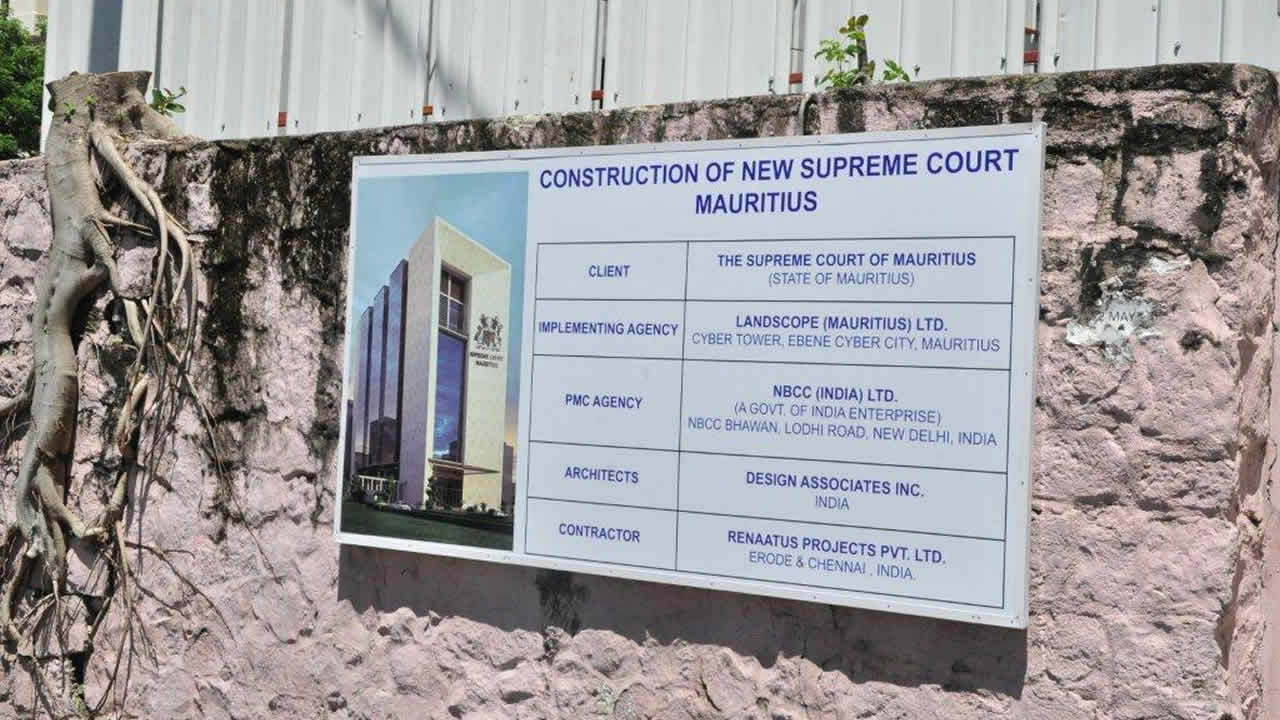 «80 % déjà faits»
Selon des informations glanées, l'infrastructure de la nouvelle Cour suprême est aussi adaptée pour les autrement capables. Les systèmes de sécurité sont aussi passés à la loupe.
D'autre part, ils sont près de 700 ouvriers qui sont engagés dans la construction de la nouvelle Cour suprême. Ils sont maçons, menuisiers et électriciens, entre autres. Ils viennent des différentes parties de l'Inde, notamment de Bihar et de Chennai, entre autres. Leur nombre sera augmenté en vue de terminer dans les temps impartis.
« For nearly two years we are working. This is a great project… we are doing a good job », affirment quelques ouvriers indiens. Ces derniers sont sur le chantier aux alentours de 8 h. Ils mettent fin aux travaux aux alentours de 20 h à 21 h quotidiennement.
« We have finished more than 80 % of the works. This is a unique building funded by the government of India. This project will be delivered on time. We are doing an excellent work. Quality is good and progress is good », a déclaré Kedar Nath Sharma, le General Manager de NBCC (India) Limited. Ce dernier ajoute qu'une façade du bâtiment est recouverte d'un granite provenant de Madurai sise à Chennai. À noter que c'est la première fois que Maurice utilise ce granite.
Source: defimedia.info
https://landscopemauritius.com/wp-content/uploads/2019/08/180819_cour_supreme.jpg
720
1280
ZethAdmin
https://landscopemauritius.com/wp-content/uploads/2018/11/Landscope-Mauritius-2.png
ZethAdmin
2019-08-19 11:25:10
2019-08-19 11:25:10
Nouvelle Cour suprême : le bijou du pouvoir judiciaire